Futbol, the Armenian flag and Breaking Social Norms
Armenians have quite interesting reactions when they see something that is "out of the ordinary". A few of my friends and I were getting ready to go to the futbol game, Armenia vs. Belgium and we decided to show Armenian patriotism – on our faces. So we painted our faces with the tricolor of the Armenian flag. (In case you are interested, we used lipstick and eyeliner.)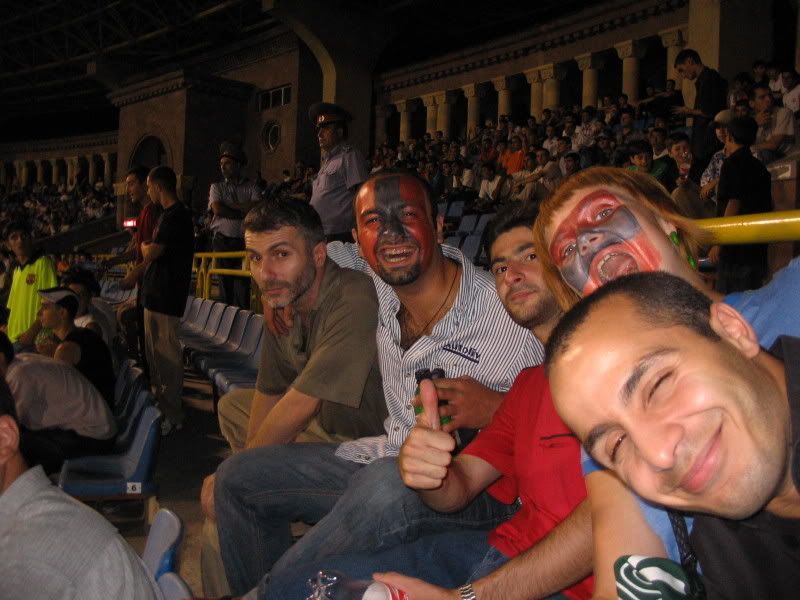 here are my freinds at the stadium
As we were in public and waiting for our ride, everybody was quite amused by the painting on our faces. There were a few younger kids (probably around 5-6 years old) who just kept laughing, and it was such a joy to see these kids just laugh really hard. Then there were a couple of older males who were also quite amused and I would say their ages were about mid 40's- 50's. Funny thing is they were acting as mature as the 5-6 year olds…
Then there were others who were simply scared and were gasping as they saw my friends' faces, saying "what is that?" in Armenian. It was even funnier to see their reaction when one of my friends would respond in Armenian language and say, "it's the Armenian tricolor."
Thing is, it is not very typical for an Armenian to do such things. Obviously, this explains the shock factor. But also, it is not within the social norm in Armenia to really "stand out" by doing such things as painting your face with the tricolors of the flag. This reminds me of an article I wrote a while back about how people react when they see people who wear different clothes, with holes in their jeans, or have long hair or when guys have earrings. Armenians tend to not be so "accepting" of these different choices in style. And of course, we knew that we would get a similar reaction when painting our faces.
So we get to the game, and of course the staring and the reactions continue. Although at this point, it did not seem so out of place because other fans who had come to the futbol game were also showing their pride by carrying the flag or wearing one on their heads.
And of course the stadium was PACKED with men. I had attended a few futbol games in Yerevan a few years back and knew that this would be the case. On our way to the stadium, I had mentioned that many women do not tend to attend futbol games and the guys with me were disagreeing. They were explaining no, lately there have been MANY girls attending the futbol games… You should've seen how many there were last time, they expressed. Well, we got to the stadium and I was able to count on my hands how many girls were actually present at the game. Not many girls attend futbol games.
We screamed "Hayasdan" and cheered on the team as they tried to score at least 1 goal against the Belgian team whose players were probably 2 meters in height. However, our chanting and screaming was to no avail as Armenia lost the game to Belgium 0-1. No worries, though, it was a good time!
And as we were pushing and shoving trying to get out of the stadium, one of the boys walking next to us looks at our faces and says to his friends, "Ara, et Belkiakan troshn e?" which means "Is that the Belgian flag?". I turn to him and responded in Armenian, "No, it's the Armenian tricolor of course. Can't you see?" Boy was he surprised that these STRANGE looking faces were actually responding to him in Armenian!
I guess they thought that Armenians would not do such things as paint their faces for a futbol. They figure that Belgians would be the only people who would do such things. Could this be the reason why they did not see the obvious red, blue and orange colors clearly on our faces? Surely when these talking painted faces responded to them in Armenian, it surprised them. And one more thing is for sure, we need many more people not only in Yerevan but in the whole world breaking social norms in public. Go ahead people, break a social norm or two today if you can! I dare you to do it!