Batumi and the Armenians- what a small world!
Batumi is THE vacation place for Armenians. And if Batumi was not enough, those Armenians have now started moving onto taking a vacation in the surrounding villages like Kobuleti …
I spent a week in August in Batumi, Georgia for a seminar entitled "Swapping Cultures Initiative as a Tool for Promoting Peace Training Course" and we engaged in discussions regarding minority issues and intercultural exchanges. With the Armenians being one of the largest ethnic minority groups in Georgia, the organizers of the seminar had previously arranged for a meeting with the Batumi community there.
What a small world. One leaves Armenia and bumps into every other Armenian already in Batumi. Then, the organizers of the Training Course arrange for a meeting with the Batumi Armenian community. I did not even know of this event and was quite surprised and delighted.
So off we went to this meeting with the Batumi Armenian community. And there I was to realize what an even smaller world this place really is…
One of the leaders of the Armenian Batumi community, Grigory Vardanyan gave us a brief overview about the community there. Some of the major issues facing the Armenian-Georgian community are assimilation, poor quality of the education system and the lack of jobs.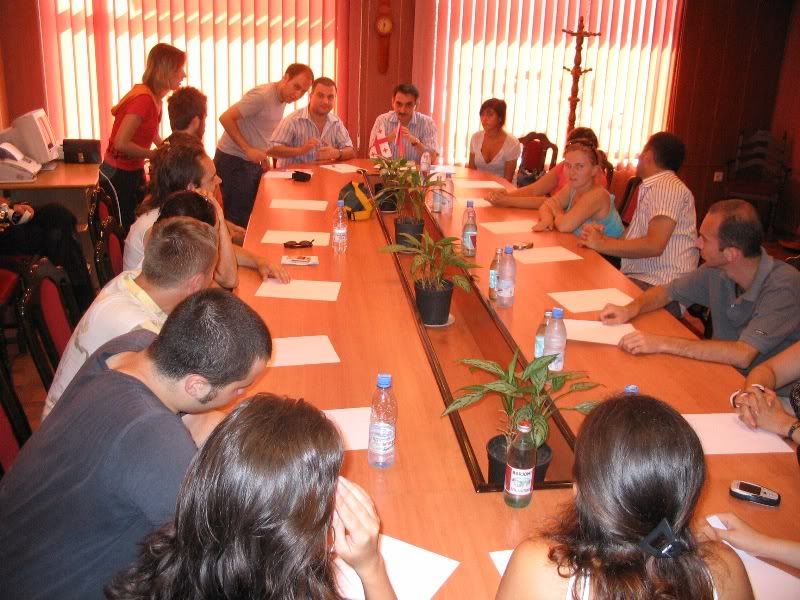 Barely able to speak Armenian himself, he spoke in Russian to me and explained how the Armenian community was not really able to speak the Armenian language. He pointed out that the poor quality of the Armenians schools in the city were the reason for this. The so-called Armenian schools are not really teaching Armenian language, rather providing an education in the Russian language. And on top of that, the quality of education is so poor that most of the students who attend these schools are not able to be admitted into a Georgian university upon graduation. For this reason, the enrollment in Armenian schools is beginning to decline and quality is decreasing with it as well.
Yet another issue he raised was the fact that the Armenians were not able to obtain employment so many of them were leaving for Russia. As he explained this I kept thinking how this was also a very common problem in Armenia as well.
Among our group of participants there were young people from many different countries, such as Latvia, Ukraine, Moldova, Georgia, Azerbaijan, Turkey, Bulgaria and the UK.
During our discussion with Mr. Vardanyan, one of the Turkish representatives mentioned that he is from Bayburt, a city which is now in Eastern Turkey and is known to have a thriving Armenian population during the Ottoman Empire. Mr. Vardanyan's eyes lit up and as he explained my grandmother is from Bayburt as well.
He started telling the story about how his grandmother left Bayburt and his family was split up after the Genocide. It turns out that Mr. Vardanyan's grandmother's sister ended up going to Providence, RI, the city I was born and raised! My eyes lit up! An even smaller world…
Apparently, Mr. Vardanyan explained has been looking for his family in Providence for the past 4-5 years and has had no luck. After exchanging contact information with him, I let him know I would be very willing to help him find his family in Providence. Considering this city has quite a small Armenian community (with around 10-15,000 people), I am hoping and seeking to make this connection for him.
Prior to going to Batumi, I knew and had heard of this place as being THE place for Armenians to go on vacation. And certainly, I bumped into many people from Yerevan that I know. However, it became a much SMALLER world after making this connection.