Armenian Youth protest against murder of young Armenian man in Moscow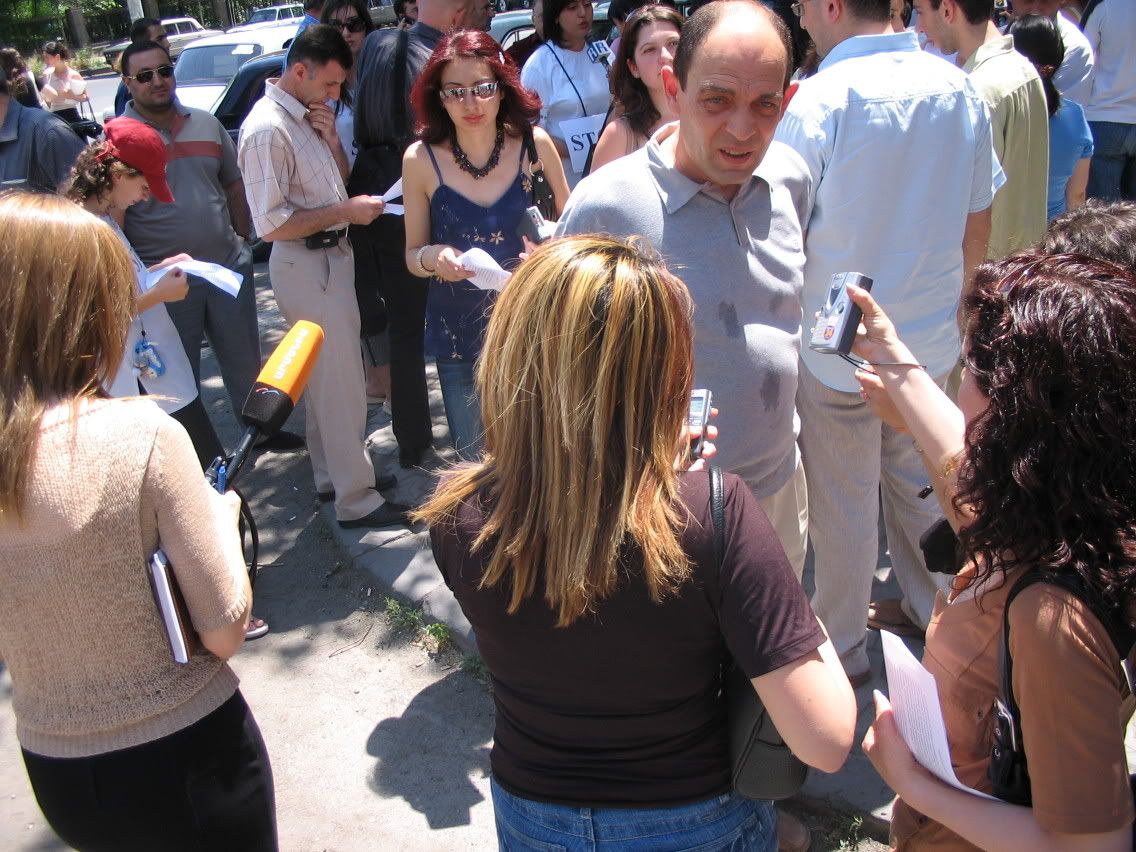 YEREVAN
Armenian youth gathered in front of the Russian embassy today to protest against yet
another young Armenian man murdered in Moscow last week.
"A 19-year-old ethnic Armenian man was knifed to death on a Russian passenger train last week by a group of youths shouting "Glory to Russia", Ekho Moskvy radio station reported yesterday…A wave of killings and beatings in cities across Russia has raised concerns about the rise of racist groups in the country."
– Reuters, May 31 2006
The
Armenian Helsinki Committee
and
For Science Development Initiative Group
organized the demonstration which began at 1pm.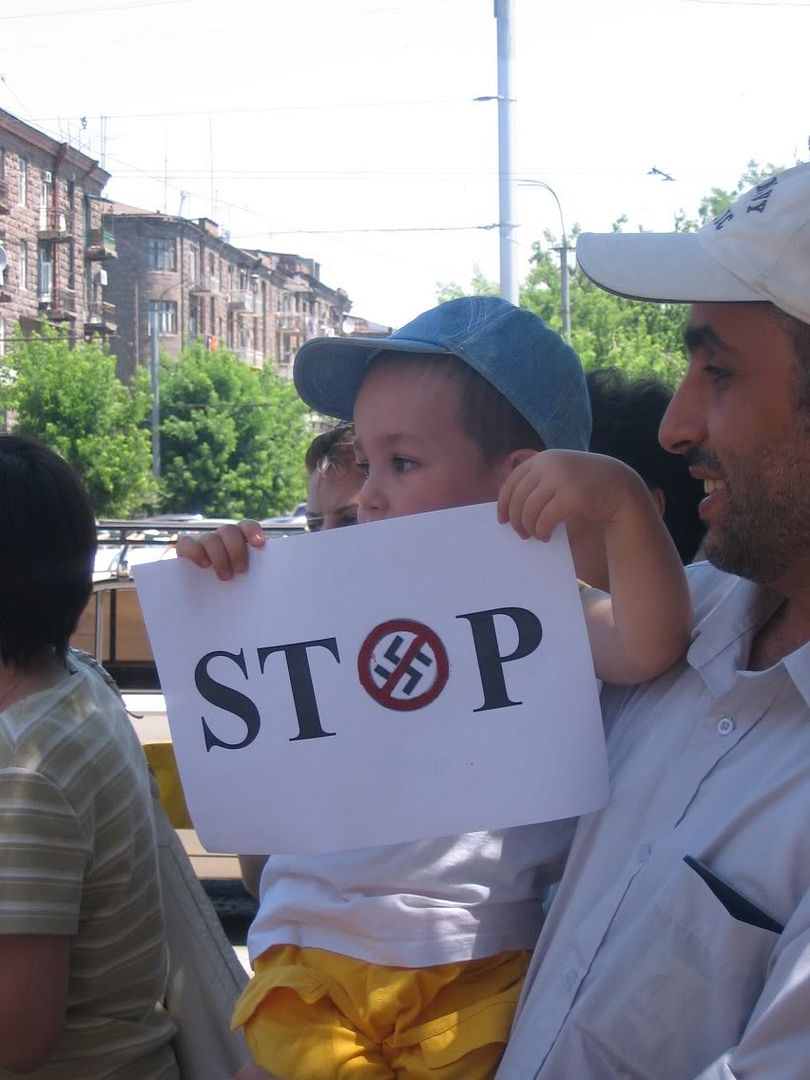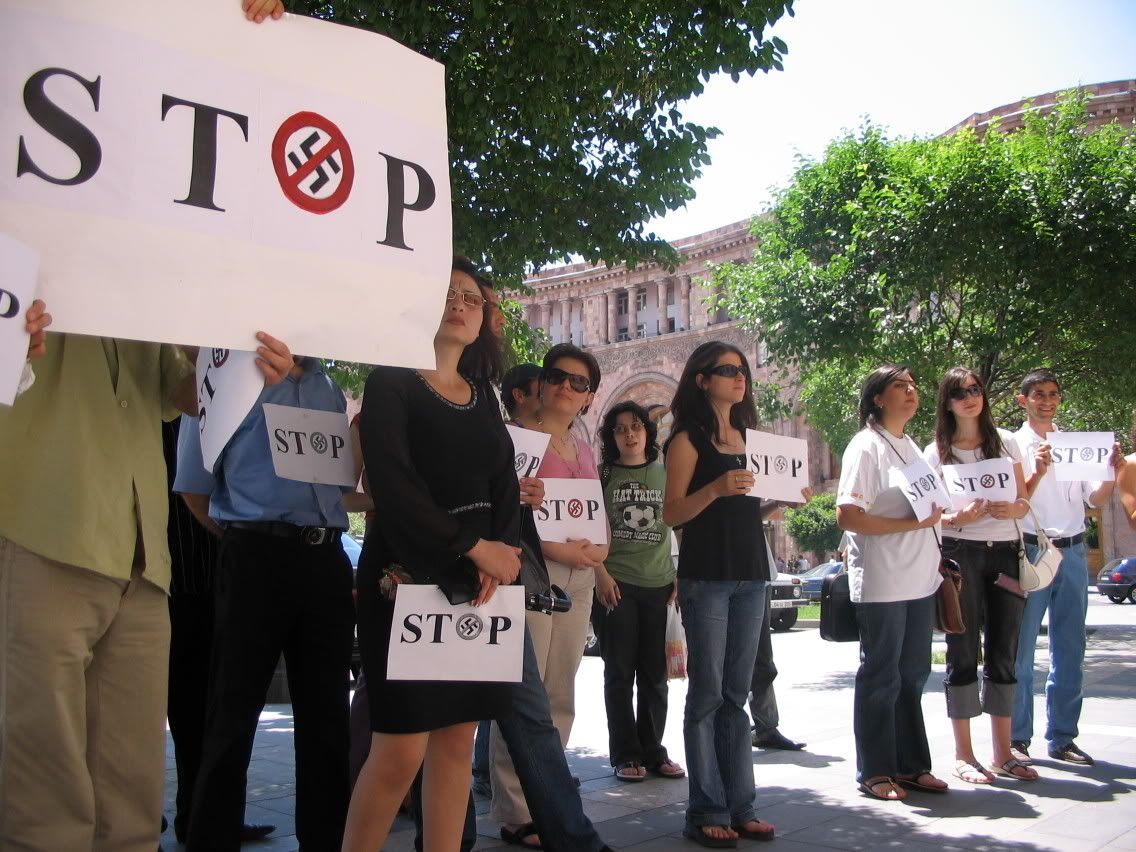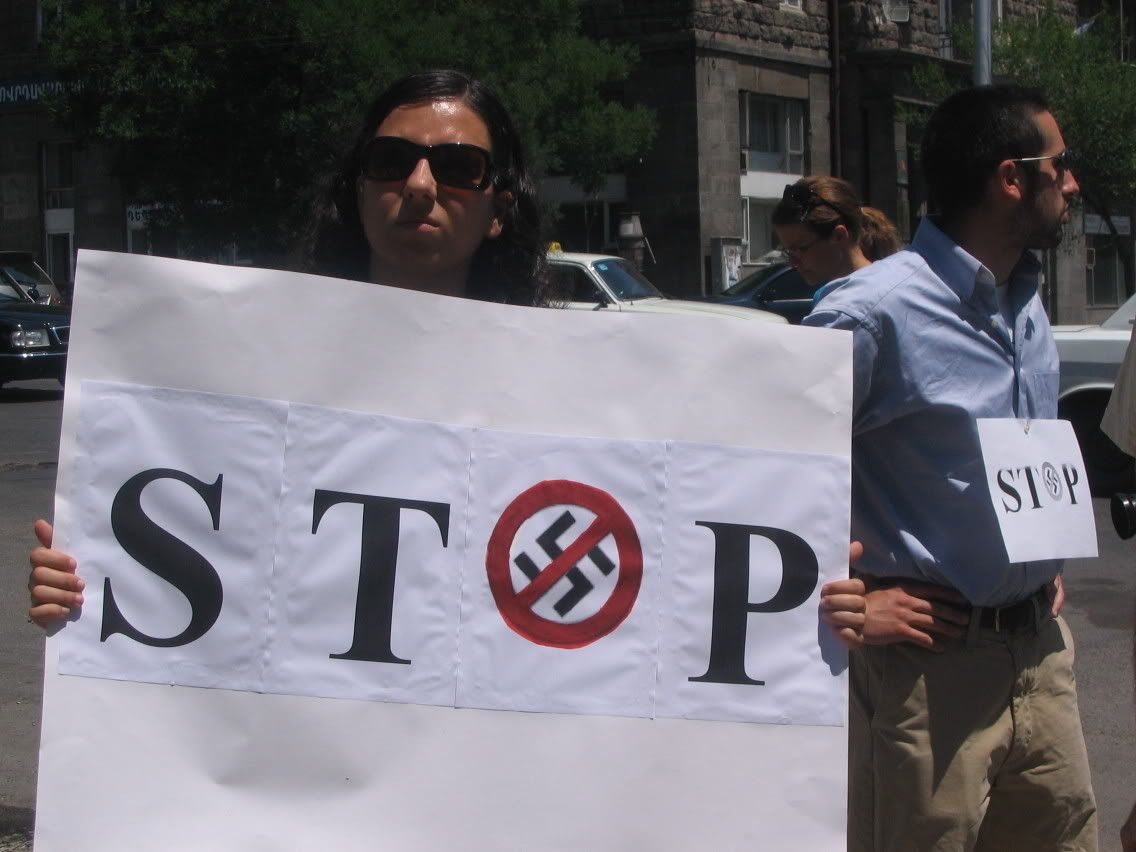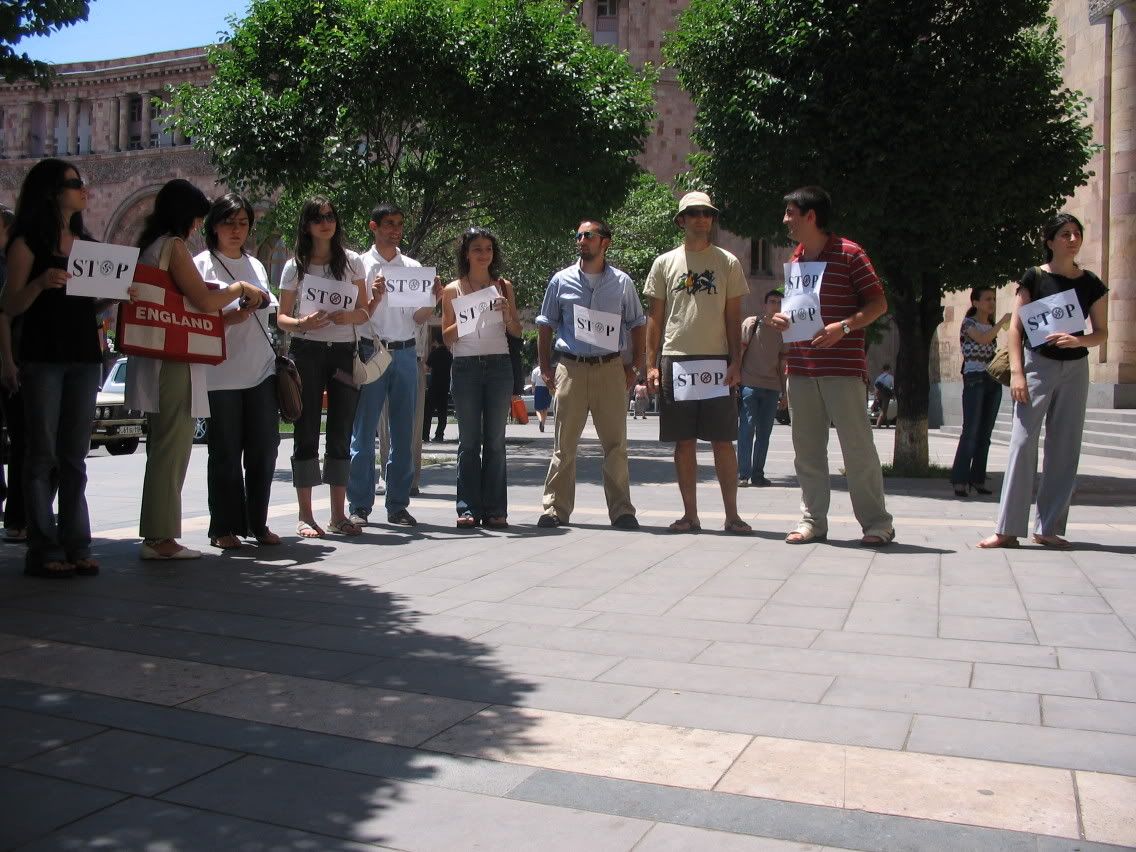 There have been a few murders and racially motivated acts of murder committed against Armenians as of late.
As this article on Groong points out
, on April 22nd, Victor Abrahamiants was killed by these so called skinheads in Russia that would like to see "the Russian nation purified of all other peoples." Thus, this isn't something new that's happening and none of the authorities have come out with a statement condemning such actions. This was one of the purposes of the protest.
Organizers of the event signed and presented a statement to the Russian embassy and then after that protesters headed to the Armenian Ministry of Foreign Affairs to present a letter as well. The goal is to at least get the authorities to present a statement condemning such ethnically and racially motivated murders and to hold those who are guilty, responsible for their actions.
Statement

" The repeated occurrence of virulent racism and xenophobia in Russia in recent years is of great concern. In 2005 alone, 28 persons from ethnic groups other than Russian were murdered and another 402 such persons were assaulted and battered by racist groups. Targeted predominantly are persons who come from the Caucasus and Central Asia, with Armenians constituting a large number among those. Nationalist groups make anti-Armenian pronouncements. They committed ethnic hostility-motivated murders of six Armenian young men in 2006 in Moscow alone. Yevgeny Baghdassarian, Hayk Dolukhanian, Harutiun Galstian, Robert Feroyan and Vigen Abrahamiants were among their victims as was Arthur Sardarian, the most recent victim murdered on May 25.

The fact that racist and fascist groups operate in an unimpeded fashion and that criminal acts and murders go for the most part unpunished gives grounds to believe that the said groups operate under the patronage of certain State structures of the Russian Federation. We, the representatives of the Armenian non-governmental organizations and the citizens of Armenia, condemn strongly the actions of the racist groups raging in Russia and inadequate steps taken with respect to them and demand that the Russian Federation authorities should take prompt action to detain the murderers and to bring them to justice.

Helsinki Committee of Armenia"
MOSCOW
A1+ News

ARMENIANS OF MOSCOW ARE COMPLAINING
[02:09 pm] 05 June, 2006
The Armenian community of Moscow has started a series of rallies in memory of the victims of the skinheads. The organizers of one of the rallies were young people from the Armenian community of Moscow and the nearby areas.
Students and lecturers of the Moscow State University, representatives of NGOs and members of the Armenian Intellectuals' Union participated in the rally. By the way, the Union of Armenians in Russia refrained from participating in the June 3 rally saying that it was not allowed by the authorities, newspaper «Yerkramas» informs.
Let remind you that on May 25 19-year-old Arthur Sardaryan was killed. The experts think that the murder was committed at the present of at least 20 eyewitnesses/ On April 22 Vigen Abramyants was killed in the Moscow Underground. No one has been arrested up to day.
For other articles related to ethnically motivated killings in Russia:
30 RACIST MURDERS COMMITTED IN RUSSIA THIS YEAR - ARMENIAN DIASPORA LEADER
ANOTHER ARMENIAN YOUTH MURDERED IN RUSSIA
MURDER OF ETHNIC ARMENIAN IN MOSCOW: "BLOW ON RUSSIA'S IMAGE ON THE THRESHOLD OF G8 SUMMIT"
NATIONALISTS MURDER ETHNIC ARMENIAN IN COMMUTER TRAIN NEAR MOSCOW
UPDATE:
I was just informed of another fellow Armenian youth blogging about the event today
http://mkdotam.livejournal.com/156337.html