Where in the world is Vahagn?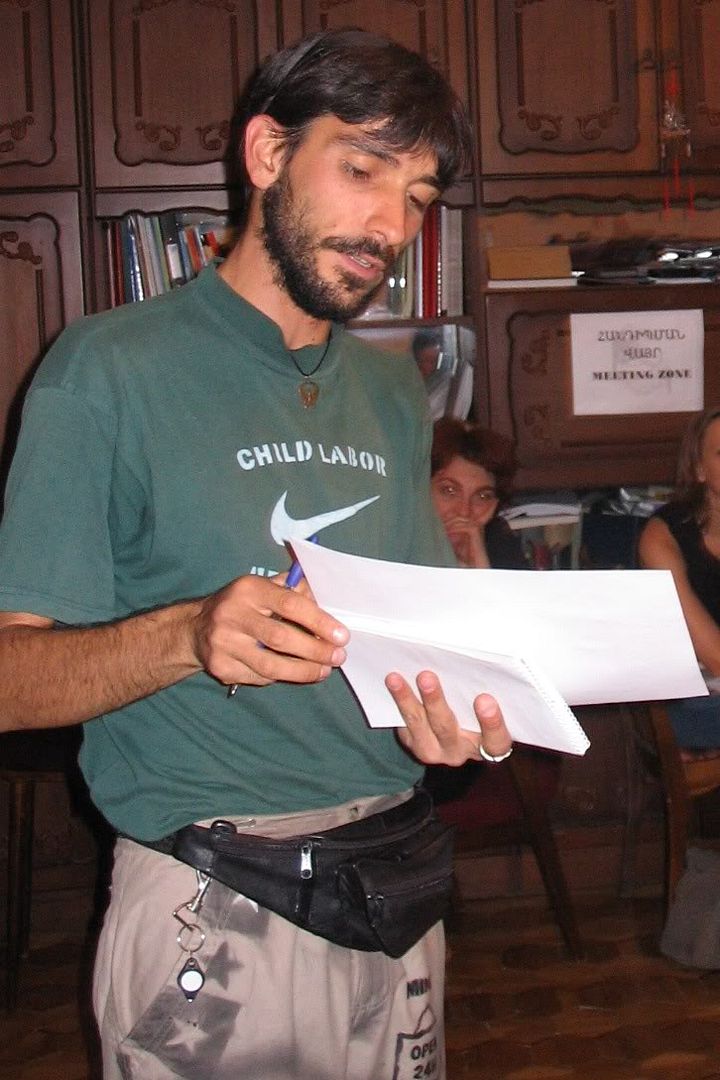 He is certainly the Armenian version of Where's Waldo?
For the past few months, Vahagn has been in the country – and then well, out of the country. I had the chance to ask him a few questions while he was still "in country".
Vahagn traveled from Amsterdam to Athens by land and by sea and attended several other meetings between April 18th through May 12th. He was to attend the European Youth For Action NGO meetings as a board member and secondly, to prepare for the Art and Activism Caravan which will be held this summer.
Upon returning from his travels, he talked about some of these concepts within Artivism and the blue flag that he carried which sought everyone's attention. He also explained in the interview, "..my feeling is that we should think "out of the box" and should try to first understand what do we want and what we can do in our country."
He's heading back out pretty soon for more interesting trips such as Ecotopia camp and other activities as he explains below.
----------------------------------------------------------------------
Interview with Vahagn Vardumyan conducted on May 16, 2006
President of BEM Progressive Action Center Youth NGO
What is this Art and Activism caravan?
Art and Activism caravan is a road show which will be passing through Greece, Macedonia, Albania, Bosnia-Herzegovina, Serbia, Montenegro, Hungary and will end in Slovakia on August 6th when the Ecotopia annual gathering begins. Ecotopia will end on August 20th and we will have Art and Activism as the theme of this year, to resume the carvan which will start on June 3 in Athens and will last for 2 months on the road.
Tell me about how you physically got to Athens?
As a group of environmentalists, we decided to travel by train and ferry from Amsterdam to Athens and we passed through Germany, Austria, Italy and having a lot of fun on the way, enjoying the trip and knowing each other better.
The visit to Athens had two main aims, the first board meeting of EYFA (the one I mentioned already) before the start of the fourth European Social Forum. We were supposed to give presentations at official and not official venues of the social forum in order to target as manyt groups as possible and to advertise the Art and Activism carvavan. The Social Forum started on May 7, officially. And it had more than 10,000 participants from all over the world.
Were you the only participant from the Caucasus?
No, at the official Social Forum there were other Armenians representing Armenian Diaspora in Greece and some Armenian based NGOs.
...
What sort of activities were you planning? What more can you tell about what you did during the trip?
We were trying to not leave any detail and to understand what can be our challenges on this two month tour because the Balkans are one of the most sensitive regions of the planet and our aim is to make some kind of synthesis of Art and Activism in order to give as many tools to the public as possible, to strengthen the local communities. Yeah. So when we leave, they will be able to continue the "Artivism" as we call it, the way they want to using the most environmental friendly ways of making decorations, costumes, drums, cloning tools, etc.
What is this concept "Artivism"?
Artivisim is the combination of creativity and active public work but organized in a more fun and accessible-to-more-people way. As a way of thinking and living, this is something new but it has a big potential and grows very quickly.
...
What is your overall feeling about your experiences traveling only through land and water from Amsterdam to Athens?
That's something great. It's much better than flying.
The purpose was to show that it's possible to travel from Amsterdam to Athens?
Sure, it's safer... and it took us four days but we enjoyed that. And also having the feeling that we are not damaging the planet, yea I did something important...
I would give an example, if you are flying once from one destination to another- it's three times more damaging to the planet than going once by car only alone along the same route. Also, we decided to pay 40-80 euros more for plane tickets every time we fly because there are companies which plant trees using this amount of money - where you want. And that compensates somehow the amount of damage that flying does to the environment.
Was this the only of your trip?
And the Social Forum. For the Social Forum, I had several goals: To unite different activist networks of the world around social and political, environmental and other issues. Also, to show that these networks are collaborating and they are strong. No matter what the global corporations think and do. So, the 7th of may there was a huge demonstration organized in Athens with about 100,000 participants. And because of some of the preventional aggression from the Athens police- using tear gas at the beginning of the demonstration with no purpose- the demonstration became noisier than we expected and there were fights that erupted between the activists and the police. Well, this was at some point scarey.
Did you get involved? How?
…Well, just being as solidary with these activists, it was also an experience. And other things because I was also angry on the fact that there was so much tear gas used against the demonstrators.
Coming back to Armenia from such an experience, what are some of the thoughts you have?
One of the fist things that I felt, upon entering Armenia already in the airport was the mess which is something regular not only in the airport but in general in Armenia. The lack of organization on many different levels of our society is something more dangerous than throwing stones and being arrested during demonstrations. And my feeling is that we should think "out of the box" and should try to first understand what do we want and what we can do in our country. Usually when I think about this, I am surprised how easy things can be only if we will manage to unite our ideas, our spirits, and our power.
Also, I missed Armenia very much.
Why? And what specifically?
I love my country and indeed I even like the way it is so disorganized. But this is a joke halfway. I travel so much that this is why I like being in Armenia. …I can see it from the outside. For most of the people that don't see what are the values we have and others don't, that makes people to be depressed and not to want to do anything
Are you saying one must leave Armenia in order to understand what it's like?
Also, yea but not only.
…
[ at the demonstrations in Athens, he explains ]
I had one of the most interesting flags ever as most of the people thought. It was a blue flag with the earth picture on it without any word or any message. That demonstrated my approach to activism as an "Artivist". People would ask so what party are you from? And I would say I am from the Earth party and if they wanted to join they were more than welcome. This sounds too pacifist maybe but I think it was a tiny drop of netural positivity which is one of the main basic concepts of Artivism.
Do you plan on bringing this concept of Artivism into Armenia and particularly to use among the youth? If so, how do you think it will be accepted? Or not accepted?
Yes, I want to bring this concept here. Although I feel that it exists already, though I can help to awaken it.
How?
Well, I put messages on myself when I walk on the streets. I talk to people very openly . I don't put barriers between myself and people from my own society but from different levels. I mean the ideological level- no matter if one is "rabiz" or not, I just don't put barriers. Trying to understand every single human being and help if I can.
How do people see you, in your opinon, when you are walking around with all of these statements on you and other messages on your clothes for example?
Not only that. People mostly like it. I have the feeling that they would do the same but because nobody does it, it is often seen as an "anti-social something" which never bothers me. Moreover it stimulates me in a way.
...
I feel shame. That most of the possibilities given to me to travel and see all these youth activism and fun stuff going on around Europe are given by European funds and there is no single example of an Armenian businessman or network which supports the concerns and active youth to take part in important international events. But I hope that our trials to make it possible will succeed and I really dream about groups of Armenians going to these annual gatherings together and having important roles in them.