Big dreams, small hopes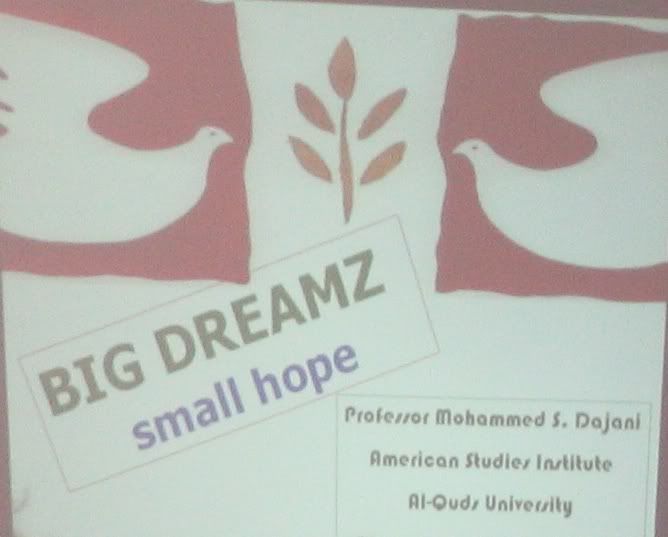 Dr. Mohammed Dajani from Al Quds University is in town-- in Yerevan that is. And he has made a few presentations while he has been here.
I had the privilege of being invited to and participating in the conference held at AUA Business Center on May 27th and it was entitled, "Big dreamz, small hopes" and thought I would provide a bit of insight regarding his presentation and the discussion which took place afterwards.
A BIT ABOUT DR. DAJANI…
A professor of Palestinian ethnicity, he teaches American Studies at Al Quds University. Frankly, he is quite well known in the peacebuilding and conflict resolution field throughout the world. He has given lectures in so many different places to so many different people and in regions with different conflicts. This time, he brought the 'Big Dreamz Small Hopes' to the Caucasus.
His powerpoint presentation was "Big dreamz, small hopes" and he presented the issues regarding the Palestinian-Israeli conflict. Yet many lessons were to be learnt from this presentation that Armenians should take into consideration when discussing the Nagorno Karabakh issue.
* image vs. reality
Image and perceptions shape our view of who the enemy is – and it may not necessarily be the reality.
In many conflict situations, the two parties involved are enemies with another and maintain a certain image of their enemy. One side tends to view the other side in a sort of "mirror image" – that is, they see their enemy the way their enemy views them. For example, as Armenians call the Azeris aggressive, not trustworthy and so on and so forth, Armenians tend to see Armenians as the same.
just an example -- I remember there were recently cross border shootings going on between Armenia and Azerbaijan.
The Armenian media reported that Azeri soldiers fired at Armenian soldiers in Ichevan.
February 22nd
March 8th
And a most recent case, on May 30th
While in the Azeri media, they reported that Armenians broke the ceasefire.
March 11th
March 16th
* The result = "Us vs. them"
And as long as we continue to view the situation as "us vs. them", the conflict will not be resolved.
"Is peace possible?" Dan Smith asked at his lecture presentation at the IWPR office in Yerevan held on May 24, 2006. A pertinent question in which he rhetorically responded, "Yes… when one party is able to view the other side as their partner."
Thus, when those parties involved in the Nagorno Karabakh conflict are able to envision themselves as "partners", then all parties involved will begin to see some progress in the resolution of the conflict.
* How are these images and perceptions formed?
Through the media.
Through stereotypes.
Propaganda.
The "enemy" image of one another is maintained. The more myths we have and maintain of one another, the more difficult it is to get over them. Stereotypes and propaganda continue. And so on and so forth.
* There is no such thing as a "monopoly of truth"
There is no such thing that only one side is "right".
And it is all a matter of your perception.
He showed images of how the Palestinian press showed the "enemy" and vice versa.
In both cases it became obvious—when there were Palestinians killed, they had a face and a story in the Palestinian press. When an Israeli was killed, this person was merely a number…
Armenian soldiers killed in NK war
Picture from website:
http://www.bhhrg.org/CountryReport.asp?ChapterID=770&CountryID=2&ReportID=249&keyword=
Azeri Memorial to those killed in Nagorno Karabakh war
Picture from website:
http://www.galenfrysinger.com/azerbaijan.htm